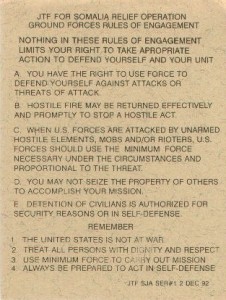 Welcome back to Two Navy Guys and a Novel, the place where you can watch two ex-Navy guys (try to) write a novel–in real time. If you're just joining us, go to this link to get caught up on previous episodes.
In the military, there's a concept called "Rules of Engagement." As the name implies, these are a series of rules that describe how and under what conditions a military force may act. The strength of the rule may fall anywhere on the continuum from a guideline to a lawful order. The picture at the right shows the actual Rules of Engagement (ROE) for Operation Provide Relief to Somalia in 1992.
While we don't anticipate the actual use of force in our writing of WMD, J.R. and I thought it wise to set up some project guidelines about what you should expect from the "Two Navy Guys and a Novel" blog series.
Two Navy Guys & a Novel Blog
Rules of Engagement
No Spoilers – We will do our dead level best not to give away any major plot twists so that when you finally get to read the book at the end of this journey, you will be able to enjoy it as a reader.
Honesty – We will be open about our writing process, and share what we are trying to accomplish, as long as it doesn't violate the "No Spoilers" rule. We will use this openness as a way to motivate ourselves to do our best work.
Admit Mistakes – We will make mistakes. We will tell you about them as long as we do not violate prior rules.
Celebrate Success – I put this one in because, as Type-A personalities, we often focus on what went wrong. Take time to breathe in the smell of sweet success if you're lucky enough to have it waft your way.
Have Fun – J.R. and I are doing this project because we want to exercise our creative selves. We want to work hard and play hard. Laughter is allowed.

Take a Break for Sea Stories – Military service makes you experience a whole lot of life in a very short period of time. From great experiences come great stories. We intend to intersperse our blog updates with sea stories that have nothing to do with our project (or do they?)
Upcoming Posts
So what are some of the topics you can expect us to take on? Here's a sampling:
How did we decide on the WMD story idea?
How do the logistics work when you have two writers working on the same story?
What is our schedule for the project?
Do we self-publish or go the traditional route?
Should we do a Kickstarter?
How do we find beta readers? When do we use them?
Marketing, marketing, marketing…does it ever end?
Did I miss something? Is there a topic you'd like us to talk about that's not in the list?
Drop us a note in the comments or send an email to twonavyguys@davidbruns.com.
---
David Bruns is a writer from Minnesota, and creator of the sci-fi series  The Dream Guild Chronicles. Check out his website for updates, new releases and a free short story.
Connect on:    Twitter    Facebook   Newsletter