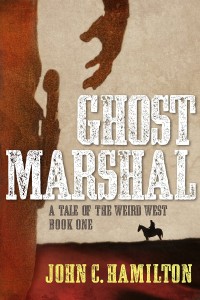 I used to love Westerns as a kid, but it's been a long time since I've picked one up. Zane Grey, Louis L'Amour, they wrote great stories, filled with shoot-outs and larger than life characters that always—somehow—seemed to live to fight another day.
In Ghost Marshal – A Tale of the Weird West, Book One, author John C. Hamilton takes everything I loved about the old-style westerns and makes it his own in a completely unexpected and delightful way. He calls it the "Weird West," but you might think of it as paranormal or supernatural. Jessie Parker leaves her native Minnesota to join her father who had gone to make his fortune in the gold rush in Deadwood, Dakota Territories, circa August 2, 1876. At the same time, the famous Wild Bill Hickok (yes, that Wild Bill) was murdered in Deadwood by Jack McCall.
Well, Dad is dead and when Jessie decides she's going after those that did him in, she finds help from an unlikely source: the ghost of Wild Bill, who has some unfinished business of his own but is lacking an earthly form to make that happen.
As if the story alone wasn't fabulous enough, Hamilton uses all the old Western tropes like a master. You've got characters with names like Squirrel-Tooth Annie, Meng Chen, the Chinese sorcerer; and Dirty Em who runs the "Female Seminary" aka local whore house. He peppers his prose with side-splitting westernisms like: "he's so crooked he could eat nails an' spit out corkscrews" or "he was the kind of man who would shoot a puppy to punish a child." When Jessie goes after the arch-villain, she wants to give him "a suspended sentence from a sturdy cottonwood."
But the best part about the book was the ending. Hamilton manages to take the ol' standby, the shoot-out finale, and put it on paranormal steroids. Climactic, satisfying and faithful to the genre at the same time.
I flat out loved Ghost Marshal, or as Hamilton would say: "I'm as happy as a puppy dog with two tails."
If you're of a mind to mosey on over to Ye Olde Amazon, you can get yerself a copy right here:

---
David Bruns is the creator of the sci-fi series  The Dream Guild Chronicles, and one half of the Two Navy Guys and a Novel blog series about co-writing the military thriller, Weapons of Mass Deception. Check out his website for a free sample of his work.
---