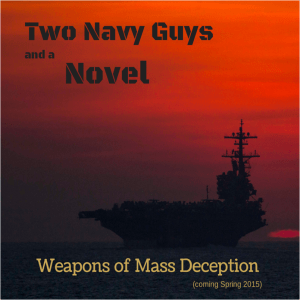 Welcome back to Two Navy Guys and a Novel, the blog series where you get to watch two ex-Navy guys try to write a military-political thriller. If you're new to the scene, check out our webpage for back episodes.
As you can see by our Writing Progress-O-Meter, we are one chapter away from completing the first draft of Weapons of Mass Deception and have waded into the second draft process in earnest. Our goal is to have this manuscript in the hands of our beta readers before the Christmas holiday.
This week we're talking about characters. The Good Guys, to be exact. A lot goes into making a believable character, and having lived with these people for the last four months, they are nothing if not believable.
Building Blocks
JR and I are both former US Navy officers and Naval Academy graduates. We knew right from the beginning that we wanted our story to start at the US Naval Academy (USNA). It's a high stress place filled with high-potential people. If that doesn't scream conflict, I don't know what does. We had a blast writing some of the scenes from the Academy, and I'm sure any grad will recognize these situations.
Brendan McHugh is a 2003 graduate of USNA. Since the Academy is a four-year institution, that makes his time there unique: he started before 9/11, but graduated after the start of the Iraq War. In other words, when Brendan became a midshipman, armed conflict was not a likely possibility, but when he was commissioned as an ensign in the US Navy, he knew was going to fight for his country.
Brendan is special in another way: he is going on to SEAL training. We see a lot of press about SEALs these days, but these are rare people. Only about 1-2% of USNA graduates are offered a chance to begin SEAL training, which has a notoriously high attrition rate. That's only about 20-25 people a year that start the training.
The events of 9/11, as well as some other events in the story, solidify Brendan's desire to serve in the Special Operations Community. He sees plenty of action in Iraq, as well as other parts of the world, until he makes a very surprising career change.
Brendan's best friend and classmate is Liz Soroush. Following the fall of the Shah in 1979, Liz's family emigrated from Iran to the US, where she was born a US citizen. Luckily for her (and for our story), Liz's family insisted on speaking Farsi at home, and those language skills make her a VIC (very important character). Liz wants to be a US Marine, and she'll make a good one. Tough-minded, fair and not afraid to speak her mind, Liz is not an easy person to get along with—even if she's your best friend.
When they are in their final year at the Academy, Liz and Brendan take a troubled plebe (Navy-speak for freshman) under their wing. Don Riley is one of the crop of young talent that entered the Naval Academy after 9/11. Don has a very clear vision of his future: his favorite uncle was killed in the World Trade Center and he wants to use his talents to keep his country safe.
And he has considerable skills. With an eidetic memory and near hacker-level computer capability, Don is one smart dude. Unfortunately, it takes more than brains to get you through Annapolis. You need to pass regular physical fitness and military skills tests, and if you don't show promise during your plebe year…well, let's just say it's not pretty.
Characters as People
The lantern-jawed hero who you know will always win is a boring way to write a story. Too often in the thriller genre, character development can take a backseat to plot. But is that the best tack for your story? After all, even James Bond, the ultimate cliché in thrillers, is at his best when he's most vulnerable.
I like to think of characters flaws as spice—a little bit goes a long way. But it's more than that. Flaws are also a way to change the course of your story (i.e. drive the plot).
Think of Don Riley. What if his physical issues forced him to take a different career path? A guy that brilliant might make a dynamite CIA analyst.
Sometimes we're our own worst enemies. Brendan might be an ace with an M4A1 assault rifle, but his ability to pick women that are good for him is below average. And Liz is not exactly an emotional ninja, either.  Despite our best efforts to make them a literary couple, the two of them seemed to conspire to stay apart.
The Bad Guys
If you think we had fun writing the good guys, just wait until you meet our bad guys! Come visit us next Tuesday for a preview of the dark side of the cast.
---
David Bruns is the creator of the sci-fi series The Dream Guild Chronicles, and one half of the Two Navy Guys and a Novel blog series about co-writing the military thriller, Weapons of Mass Deception. Check out his website for a free sample of his work.
---