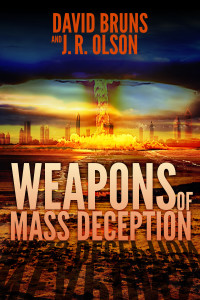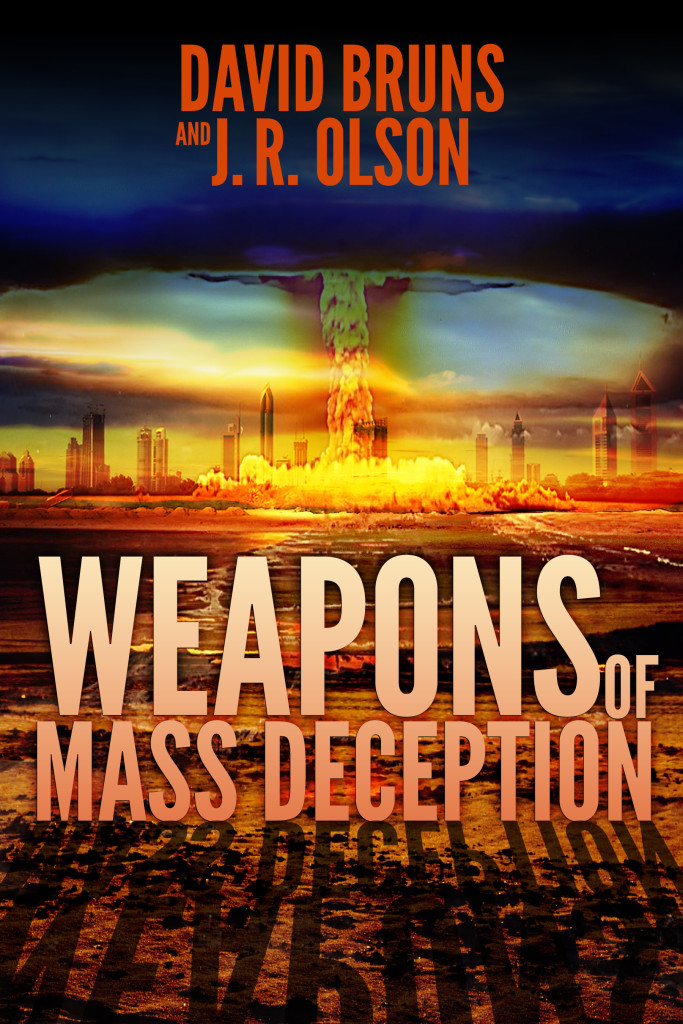 Welcome back to Two Navy Guys and a Novel, the place where you get to watch two ex-Navy officers write a military thriller. You see their progress, their successes, their mistakes…you get the picture. You can find previous episodes on our webpage.
This is a big week for us: we're about to launch a Kickstarter for our novel to create a limited edition, hardback print version of Weapons of Mass Deception, as well as the paperback and e-book editions. Details to follow in a few days.
Today, we're releasing another sneak peek chapter! The full text of Chapter 3 is available below. If you'd rather download the first three chapters as a free PDF, you can find it in the Free Books tab.
---
Weapons of Mass Deception
CHAPTER 3
Tehran, Iran
09 April 2003 – 1430 local
Al Jazeera was broadcasting live from Firdos Square in Baghdad.
Hashem had the sound muted, but the images on the screen needed no words. The US military, using an M88 armored recovery vehicle, were in the process of pulling down a statue of Saddam Hussein in front of thousands of screaming Iraqis. The iconic thirty-nine-foot statue, erected in honor of Saddam Hussein's sixty-fifth birthday, depicted the dictator with his open hand raised in friendship. But now there was a heavy chain wrapped around his neck and the statue leaned over at a twenty-degree angle. With a snap, the structure fell and hordes of Iraqis rushed to spit on the image and beat it with their shoes.
Baghdad had fallen.
Hashem had always assumed Saddam Hussein's forces would fall, but the speed with which the Iraqi forces folded surprised even him. He shook his head and drew fiercely on the last of his cigarette before crushing it out in the overflowing ashtray.
A mere three weeks from the time the Americans entered the country until they took Baghdad. Unbelievable. CNN had taken to calling it the Battle of Baghdad. What battle? With a force that large it took almost three weeks just to drive from Kuwait to Baghdad.
The crawler on the bottom of the screen said the whereabouts of Saddam and his two sons were unknown. Hashem wondered idly if he should have tied up all the loose ends from his last interaction with the Iraqi regime. No, he decided, killing Uday would have inflamed an already tense situation between their two countries. Still, with this latest news, the consequences would have been nil.
The door to the private room at the restaurant began to open, and Hashem shifted the ashtray to the sideboard, brushing cigarette ash from his suit jacket as he stood. His brother wore the robes of his office, the cream-colored qabaa. The garment fell from his thick shoulders, and a white turban framed his round face. Despite his fifty-one years, his beard was barely graying.
Hashem took a knee before his half brother. "Your Eminence, thank you for seeing me on such short notice."
His brother nodded to the guard at the door to leave them. "Hashem! Off your knees, my brother. Rise, please." He grasped Hashem's hand and pulled him to his feet.
Despite his kind protests, the obeisance was part of their routine. Aban always liked to be reminded of his office, and Hashem felt obligated to pay his respects to his elder brother, the holy man. So they played the game each time they met.
"Let me look at you." Aban grasped him by the biceps, holding him at arm's length. The older man stood a head shorter than Hashem, and even though thirteen years his elder, Aban's round face and youthful features made them seem much closer in age.
"You look like shit, brother." Aban shook his head. "It's those cigarettes. American cigarettes, no less!" He barked out a command. The door snapped open, and his bodyguard filled the doorway. Aban pointed to the overflowing ashtray. The man swept the refuse onto a tray and disappeared without a word.
Hashem licked his lips. He wanted a cigarette now more than ever. The sharp corner of the Marlboro package inside his jacket pocket pressed against his ribcage. To keep his hands busy, he poured the remains of his cold tea into the trashcan and drew fresh cups for himself and his brother.
Aban had seated himself at the table, his short legs spread wide beneath his robes, his belly sagging to touch his thighs. He pursed his lips as he watched the replay of the scene in Firdos Square. Every few minutes, Al Jazeera showed a split screen with a replay of the statue hitting the ground on the right side and some mindless commentator babbling on the left. They had cut the head from Saddam's statue now and were dragging it through the streets, where Iraqis, features twisted with rage, smacked the face of their former dictator with their shoes.
The muted Al Jazeera network cut to a White House briefing with the US Secretary of Defense. He cackled silently, peering over the lectern nearsightedly. The news crawler said: RUMSFELD CLAIMS "EXCELLENT PROGRESS." BATTLE OF BAGHDAD "AHEAD OF SCHEDULE." Aban's lips twisted.
"First the abomination of Israel at our doorstep, then we are labeled as part of Bush's Axis of Evil, now this. The American noose tightens, brother." As if making his point, he tugged at his collar. He took a loud slurp of tea and thunked the clear glass cup down on the tabletop. Tea sloshed onto the linen cloth. He turned to Hashem, his eyes fiery like when he gave his Friday sermons on television—Aban was famous for the length and ferocity of his Friday sermons. "Meanwhile, we make empty threats, religious protestations that ring hollow on the world stage. Allah wants us to be bold, to strike at the heart of this cancer . . ." He trailed off as he studied brother's face.
"You have news for me, Hashem?" His voice took on a hopeful tinge.
"I have the devices, Your Eminence," Hashem replied. He could barely contain the excitement in his voice. "The weapons that will allow you to fulfill the will of Allah." It was all he could do not to laugh out loud at his brother's openmouthed response.
"How?"
"Saddam was terrified the Americans would find their weapons of mass destruction." Hashem nodded at the silent screen where Saddam's golden statue was falling for the hundredth time. Al Jazeera and CNN were rife with talk of the mysterious WMDs, but no one could find them. The Americans were rapidly becoming the butt of an international joke.
"It seems he had good reason to be concerned. Technically we are only holding them for safekeeping, but I think we can assume they are ours now." He laughed. In the first Gulf War, Iran had held Iraqi warplanes for "safekeeping." The Iranian Air Force still used those planes today. Safekeeping indeed. Still, there was a big difference between a MiG fighter and a nuclear warhead.
"Do the Americans know we have them?" his brother asked.
Hashem shook his head. "I took precautions." I should have killed Uday.
Aban's belly quivered beneath his robes, and he beamed at Hashem. "Brother, you are truly a man of your word."
Hashem knew what this could do for Aban's career if—when—they executed an attack. A strike against Israel would make Ayatollah Khomeni's shot to international stardom following the 1979 overthrow of the Shah seem like child's play. Aban would become a world leader overnight; President Bush would have his Axis of Evil words turn to ashes in his mouth.
Still, there was work to do before they were operational weapons. Much work to do. He cleared his throat.
"There are complications, Aban," he said. "The Iraqis developed warheads, but their work was sloppy, rudimentary at best. It will take time to make them viable weapons and secure missiles and launching systems for them—outside normal channels, of course. In the meantime, I have established a base at—"
Aban held up his hand. "Please, do not say. For now, the less I know about this, the better. I trust you, Hashem, and that is enough."
Hashem swallowed his words. The hiding place was the best part of the plan. He could recall the trip as if it were yesterday. Just the three of them: Aban, him, and their father. Hashem had been barely fourteen years old. His favorite memory of that three-week trip was listening to his father and Aban talk about rocks and mining and uranium deposits by the campfire. Aban had just received his PhD and was eager to show off his knowledge to their father. That trip was when Hashem decided he was going to be a geologist, too.
They had made camp in the Zagros Mountains, a remote site, barely accessible by their four-wheel-drive vehicle. They found the cavern one afternoon during their second week: a vast space at the base of a mountain, half the size of a soccer pitch, with a level, sandy floor and an entrance large enough for their truck. He could see his father and brother even now, standing in the glare of the headlights speaking about the formation of the natural wonder in hushed tones as if they might wake some sleeping giant. His father put his arm around Aban's shoulders. At that moment, Hashem wanted nothing more than to be like his brother.
That trip was the end of innocence for Hashem in so many ways. Within the next year, his father was dead, the Shah had fallen, and Aban's always-present religious tendencies had bloomed into an obsession.
And Hashem was alone.
He entered university the next year, but he was not able to study overseas like his brother. By his sophomore year, he had been recruited by Ettela'at as an intelligence officer.
Aban was nodding at him, still smiling, and Hashem shook his head to clear it of these random memories.
"We have time, Hashem," he was saying. "As the Americans say, we have many balls in the air. We must be patient while the situation clarifies for us. Patience and victory are twin sisters, since victory comes with patience. Our greatest asset is our secrecy, brother. Above all, you must preserve that—especially in your international dealings." He placed his hand on Hashem's knee. "We must be prepared to wait—years, if necessary—for the right moment." Hashem met his brother's eyes. The Friday sermon fire had returned.
The plump hand tightened on his knee. "And above all, my brother, we must have contingencies. You have considered the possibility that our primary target may not be possible?"
Hashem nodded. Israel was a hardened target and getting worse with every passing month. Soon the Israeli Arrow system, an advanced version of the American Patriot surface-to-air missile defense system, would be operational. In truth, the Iraqi weapons were low-yield, his expert told him no more than four or five kilotons each. Poor by international standards, but enough to destroy a medium-sized city—assuming it reached the target.
No, Aban was right: contingencies were needed to make a proper statement to the world.
"I will call Rafiq," he said. "Perhaps he can help."
Aban clapped his hands. "Hezbollah, an excellent idea!" His grin darkened and he narrowed his eyes at Hashem. "I'll leave it to you as to whether or not the bastard can be trusted."
Aban stood, and just like that, he became His Eminence again. His features took on the gravity of his office and he even seemed taller, slimmer. Hashem knelt again. Aban placed his hand on Hashem's head. "Rise, my brother. Please." He stared into Hashem's eyes, then kissed him on both cheeks. "You are an instrument of Allah, my brother. I have faith in you."
In spite of himself, Hashem felt a lump in his throat, and tears stung his eyes. He mumbled an inaudible reply, a flush of embarrassment creeping up his neck. His brother was the only man who could draw such emotions out of him.
Aban stepped away and called out. The same bodyguard filled the doorway again. Aban snapped his fingers and pointed to the table. The bodyguard, a hulking man with a clean-shaven head and eyes set too close together, dropped an aluminum briefcase on the table with a thump. He stepped aside to let Aban pass, then followed the cleric out the door.
Hashem had a cigarette out and his lighter fired before the door even clicked shut. He drew deeply, letting the smoke calm his lungs, allowing it to trickle out of his nostrils before he blew a long stream at the ceiling. He smoked the entire cigarette and started a second before he laid the briefcase flat on the table. He carefully dialed the combination on the lock. 4-30-80. The date of their father's death. The locks made a loud clack in the empty room as he opened the lid.
Green and white bills, neatly banded and stacked, filled the case. He pulled one stack and flipped through the bills, letting the flutter fan his face. Hashem took another deep drag on his cigarette as he felt the sides of his lips curl into a smile.
American cigarettes, American dollars, American destruction. The symmetry was beautiful.
He reached into his breast pocket for his mobile phone and sent a text to a cut-off number in Lebanon.
Then he stared at the silent TV screen with the falling statue and waited.
 *  *  * 
 We hope you enjoyed this brief taste of WMD. We plan to release more chapters in the coming weeks. If you'd like to get a short email notification whenever new chapters are posted, you can sign up here.
---
David Bruns is the creator of the sci-fi series The Dream Guild Chronicles, and one half of the Two Navy Guys and a Novel blog series about co-writing the military thriller, Weapons of Mass Deception, coming in May 2015.
---