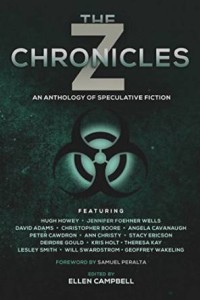 I have to say, I wasn't sure about this anthology. You see, I'm not a "zombie guy." I haven't watched Night of the Living Dead or The Walking Dead—or really any movie that features the word "dead" in the title. As the zombie craze has swept the popular culture, I've viewed it as a fad and become more reluctant to jump on the bandwagon.
Z Chronicles makes me think maybe I was too hasty in my judgment.
What I really loved about the latest installment of Samuel Peralta's Future Chronicles series is the willingness to color outside the lines of the zombie stereotype. Even in the Foreword, Mr. Peralta himself takes us beyond the undead cliché to talk about why we write about monsters and horror in the first place:
We face our fears by imagining those we can defeat, because in real life we cannot close the book. We cannot defeat all the monsters.
All the stories in Z are good, but here are a few that struck my fancy:
In "Six Days" by Theresa Kay we get the interior view of a woman who knows she's been infected and is now on the clock: she has six days to find a safe home for her baby before little Benjamin becomes her lunch. Kay combines the physical deterioration of her main character—the stiffening joints, the lack of coordination—with the increasing loss of mental control to paint a truly horrifying picture. As she holds little Benjamin she tells herself: He absolutely does NOT smell appetizing. Not one single bit. Yet with each tick of the clock she feels herself losing touch with her humanity.
Ann Christy leads off the collection with "Vindica," a zombie story that's not about zombies. It's about the survivors, the 1%, the crème de la crème that can afford to buy their way into a doomsday shelter in Kentucky called Vindica. Except for the Shorties, the people who made it in before the doors closed, but hadn't quite fulfilled their payment plan, so they're "short." They have to work for their room and board, serving the Gold, Silver and Bronze citizens. (There's a Steel level, but they also need to work in Vindica.) When we meet Gordon, our protagonist, he's had enough of indentured servitude, and joins a group of Shorties who decide to take matters into their own hands.
Christopher Boore delivers "Kamika-Z," a gruesome look at a cross-border attack of cyber-zombies by China. The same story is told from three points of view: Jake, an angsty teenager; Big Dave, his step-father; and Maddie, his mother. Boore uses a stream of consciousness style that really digs into the character POV quickly and effectively. In his afterword, Boore claims little knowledge of the genre apart from watching The Walking Dead. Not to worry, Chris, you did just fine.
But my favorite of the bunch had to be "Z Ball," by Will Swardstrom. How does a murder mystery-corporate conspiracy-sports parody-zombie story sound? In the wildly popular ZFL, a football team plays against a zombie defense for the chance to make it to the Brain Bowl. In this league, pass interference might mean your receiver got infected…and ends up playing on the opposite team next week. So QB Vince Lager takes precautions on the field:
With just seconds before they reached me, I swung my arm around and the blades tucked inside my arm pads sprung out and slashed deeply into the throats of the two closest to me.
Of course, this wasn't really football. And they weren't really pass rushers.
It was Z Ball.
And I'd just decapitated two zombies.
But the ZFL is hiding a dirty little secret: Z Ball has gotten so popular that it's tough to find suitable zombies to play defense, so maybe the League needs to bend the rules a bit.
As with any anthology, I found some stories more to my liking than others, but that's what is so great about these collections. If you're an old school zombie-ist, there are a few of the good ol' "zombie want meat" variety sprinkled in with these gems and they're pretty good as well.
Recommended.

---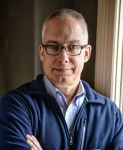 David Bruns is the creator of the sci-fi series The Dream Guild Chronicles, one half of the Two Navy Guys and a Novel blog series about co-writing a military thriller, and co-author of Weapons of Mass Deception, a story of modern-day nuclear terrorism.
---