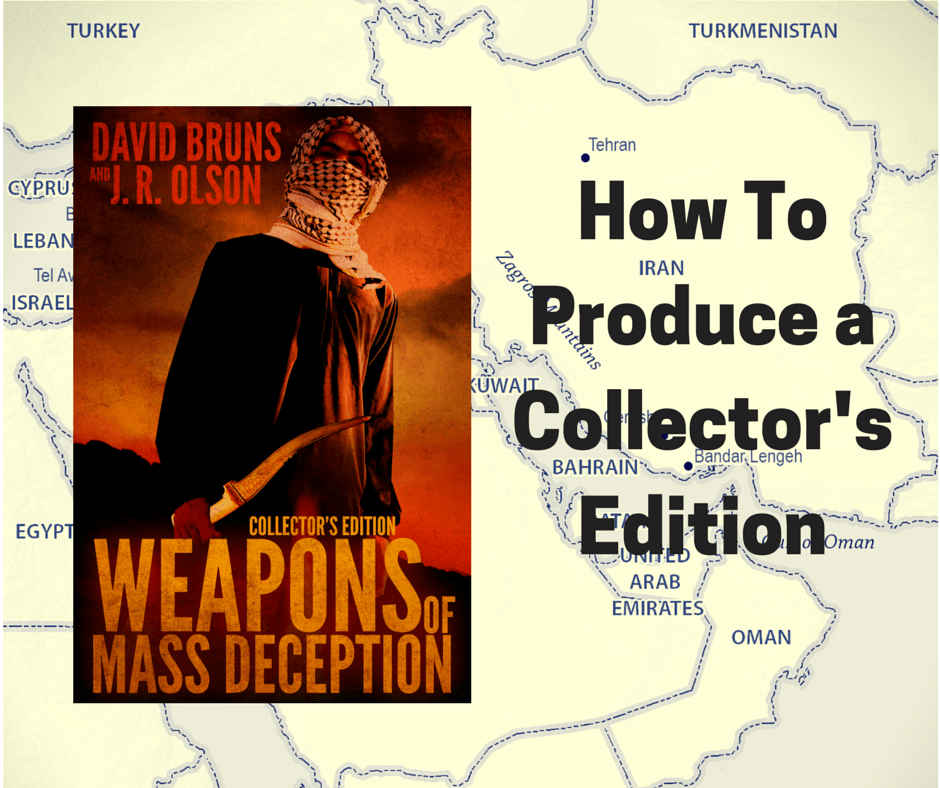 Finally, it's done. It seems like we've been working on the Kickstarter Collector's Edition of Weapons of Mass Deception forEVER, but it's really only been about six weeks.
In a previous post, we talked about what we planned to include in our very special Collector's Edition. Today, we're here to talk about how it all came out.
The New Cover
It came out great, even better than we had hoped. This is the first time we've done a hardback book with a dust jacket and it is much more complicated than the simple CreateSpace paperback process. (We used Lightning Source, by the way.)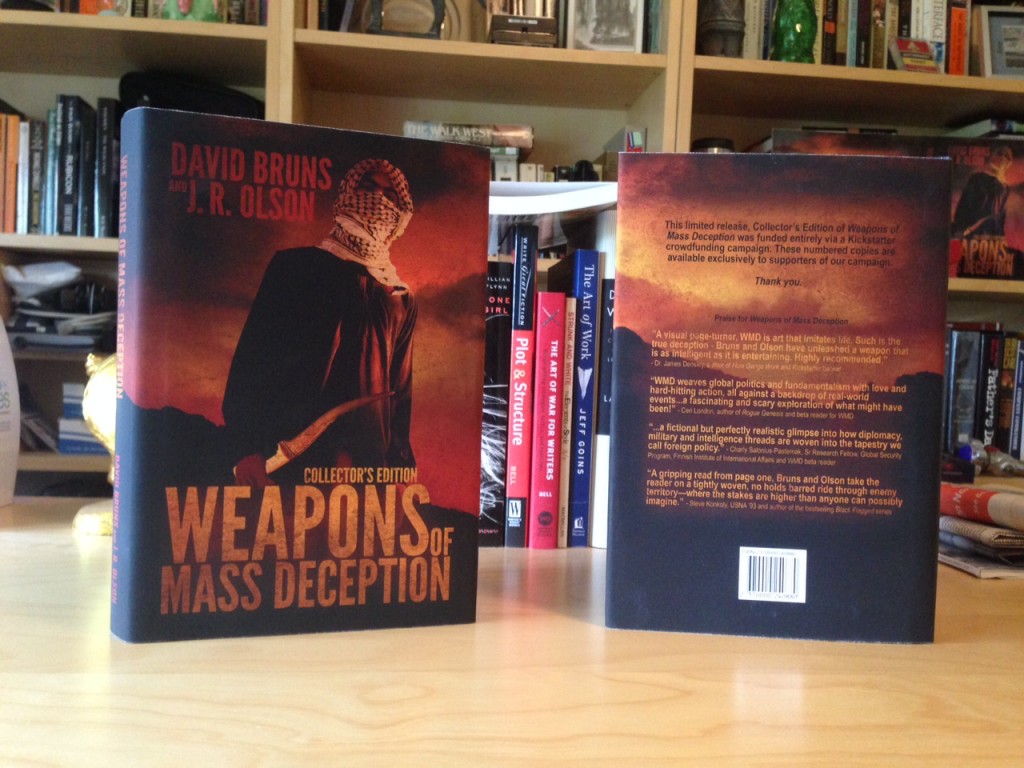 The back of the cover was reserved for endorsements from some of the WMD Kickstarter supporters and beta readers.
Maps
The story of WMD takes place over a period of thirteen years and all over the world. JR had the idea to see if we could incorporate maps into the chapter headers to better orient the reader. It was a fantastic idea that came out really well. Take a look.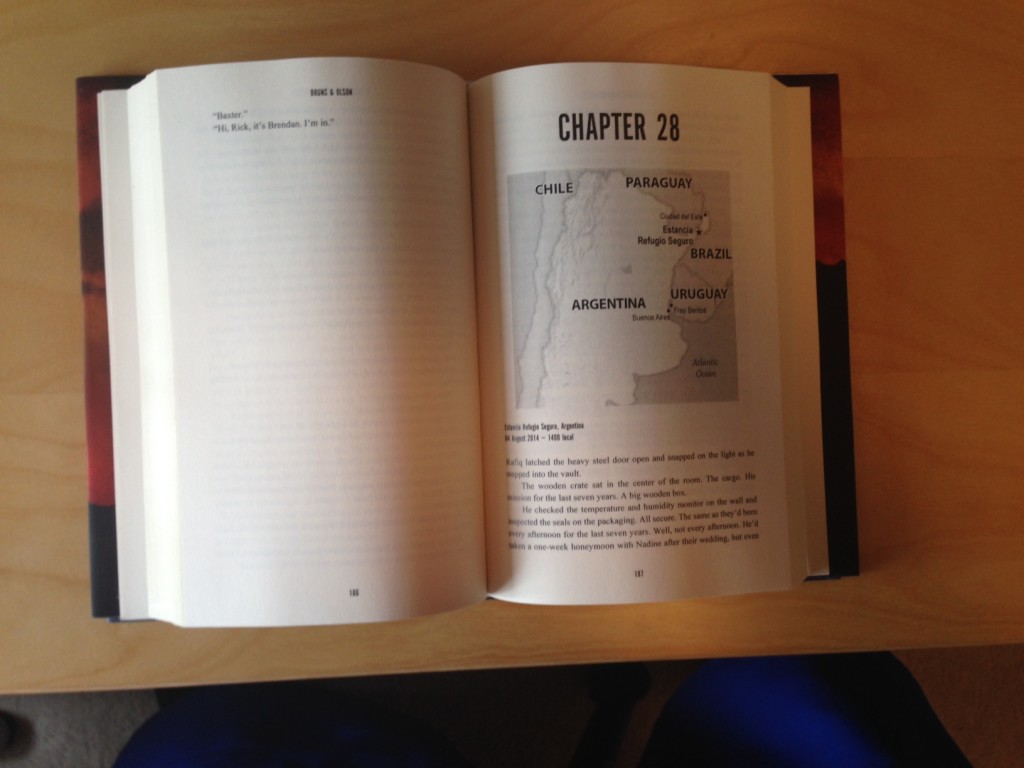 Supporter Page
The dedication to this edition goes to the 71 Kickstarter backers who made this Collector's Edition possible. Without their help, this volume literally would not exist.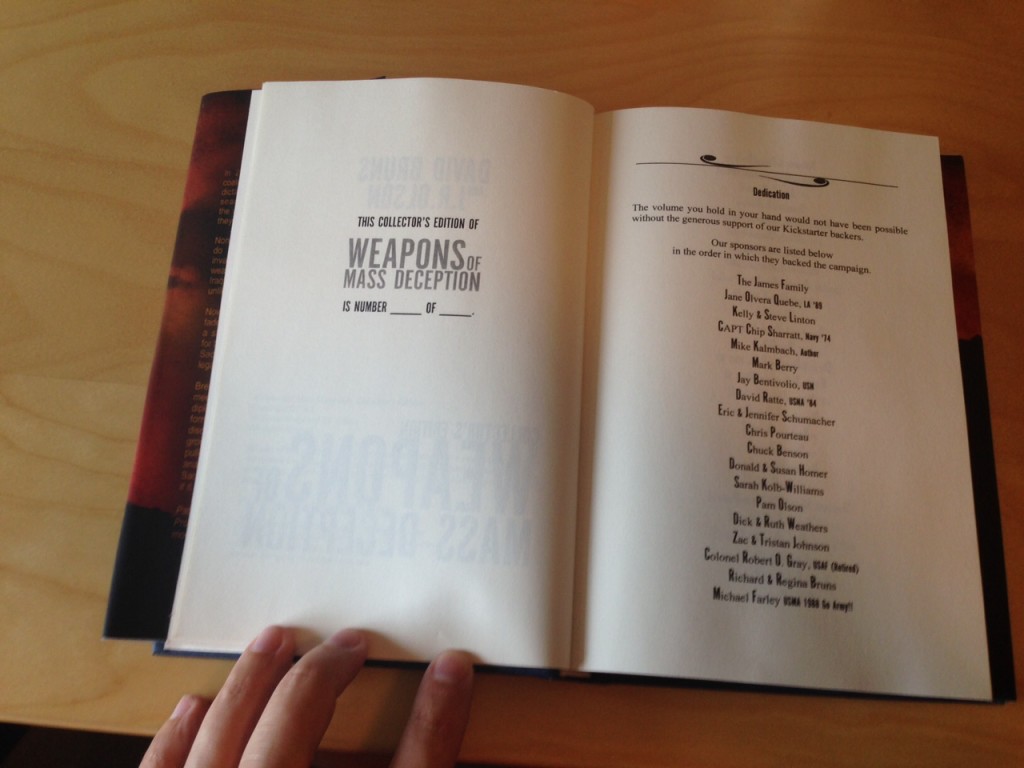 You'll notice the left-hand page has a space for numbering. This will be a numbered print run and then this edition will be no more!
Last Chance to Get In On the Action
Just imagine if you had bought a first edition copy of Hunt for Red October from Tom Clancy before he was a literary superstar…
We've had a few people ask us if they can buy one of these Collector's Editions. The print order is already submitted, but we ordered a few extra. If you're interested, please contact me at david@davidbruns.com for details.
To stay on top of new releases from The Two Navy Guys, you can subscribe to the Irregular Newsletter. Free content, advance copies of new releases, and no spam.
Want to see what all the fuss is about? 


---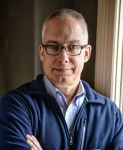 David Bruns is the creator of the sci-fi series The Dream Guild Chronicles, one half of the Two Navy Guys and a Novel blog series about co-writing a military thriller, and co-author of Weapons of Mass Deception, a story of modern-day nuclear terrorism.
---