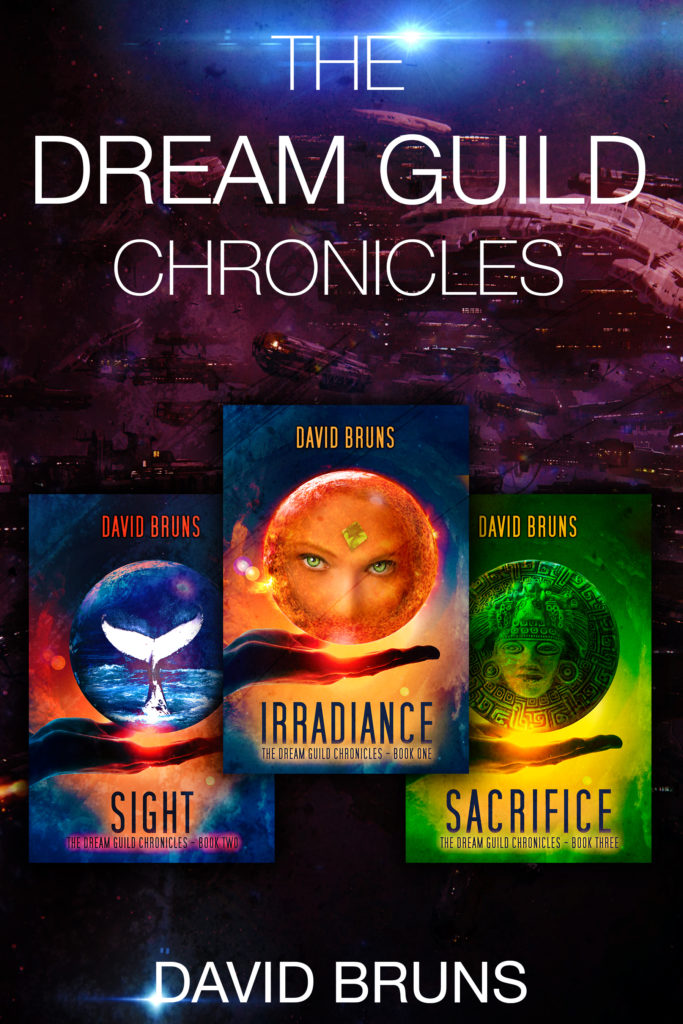 Three sci-fi novels packed with time-bending space travel, first contact adventures among alien civilizations, and one family's desperate struggle for survival...
IRRADIANCE – Book One
Utopia Rule #1: Don't ask questions
When scientist Maribel breaks the Community rules, she sets off a chain reaction of events that spiral out of control. The government's swift response attacks the thing she most cares about: her twins.
Operating on motherly survival instinct, Maribel fights back against the Community and discovers a mysterious underground movement willing to help. With her Time Bender husband and a few trusted friends, she risks everything to save her children.
SIGHT – Book Two
After fleeing the Community, the refugee adults begin to sicken. In their search for a safe haven, time is not on their side.
When a routine planetary survey goes horribly wrong, a native boy lies near near death. In a desperate attempt to save his life, the boy is given a transfusion of the daughter's blood—and the crew makes an amazing discovery.
Sariah is adopted into the boy's clan as the mysterious girl from the stars who brought them the gift of dreams. But superstitions run deep in the clan and not everyone is happy with the new freedoms, especially the tribe's Sacred Mother.
Sariah learns the ways of the clan are harsh—even deadly.
SACRIFICE – Book Three
If crash landing isn't bad enough, one of the crew is taken captive by the natives. A rescue attempt, a firefight, and one crewman is left for dead.
But Gideon is very much alive.
Alone, light-years from everyone who cares about him, Gideon navigates royal politics, tribal rituals, and ancient prophecies as he fights to take back the artifact that will let him reconnect with his family.
The Dream Guild Chronicles is over 600 pages of old-school science fiction.Here's a what a few Amazon reviewers had to say:
"who cannot love a book with a clandestine, highly illegal bookclub."
"I just found another favorite author! Man, I love this story!"
"I felt sort of cold reading this...prickly, the way I would feel when I watched the 'X-Files'."
"Aaah...now this is a story I can sink my teeth into."
Published:
September 22, 2016
Genres: