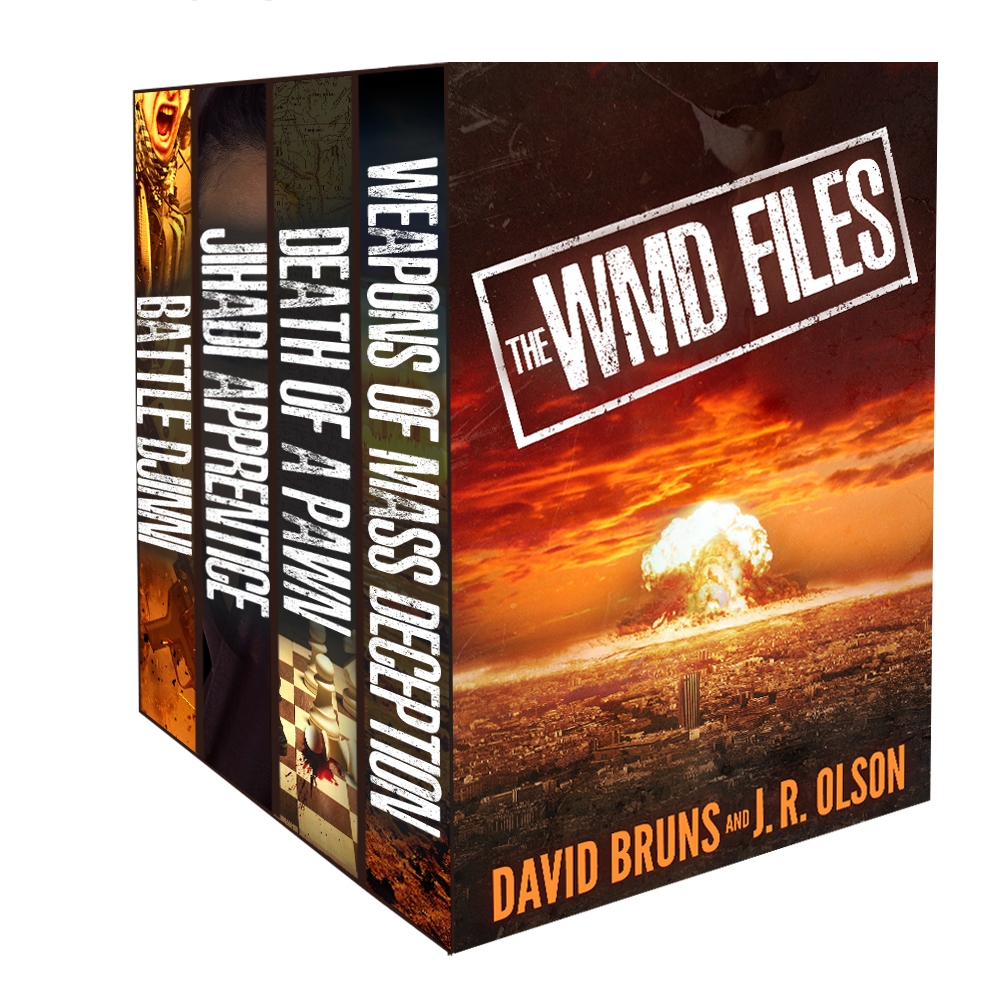 The WMD Files is four contemporary thrillers that tackle head-on the greatest mysteries of our generation. Written by two former US Navy officers, these novels are "as authentic as they come," offering nearly 800 pages of ripped-from-the-headlines action.
Weapons of Mass Deception
What happened to Saddam Hussein's nukes?
In 2003, the world watched as coalition forces toppled the Iraqi dictator, then searched—unsuccessfully—for the weapons of mass destruction they were certain existed.
None were ever found, but they do exist. On the eve of the invasion, a handful of nuclear weapons was smuggled out of Iraq and hidden in the most unlikely of places—Iran. Now, as the threat of WMDs fades into a late-night punch line, a shadowy Iranian faction waits for the perfect moment to unleash Saddam Hussein's nuclear legacy on the West.
Patriot Games meets The Fourth Protocol in this "scary exploration of what might have been."
Death of a Pawn
Suicide? Murder? Or political assassination?
In 2015, Special Prosecutor Alberto Nisman was found dead in his Buenos Aires apartment mere hours before his testimony before Congress about linkages between the Argentinean President and the Islamic Republic of Iran. His death was initially ruled a suicide, but as facts emerged in the days after Nisman's death, the public outcry for justice grew into a roar.
Death of a Pawn, takes a fictional look at the real life tragic death of Alberto Nisman and the possible links to Iran and Hezbollah.
Jihadi Apprentice
The making of a homegrown radical
Meet Ayana: high school senior, American citizen—and being recruited by a terrorist organization.
In the center of America's heartland, young men are being persuaded to leave their country of birth to fight for international terrorist groups. For FBI Special Agent Liz Soroush, stopping this homegrown recruiting is her job—and it's not going well.
Now there's a new terrorist recruiting threat. One she never saw coming.
Battle Djinni
An army with everything to gain. A soldier with nothing to lose.
On July 13, 1982, the first day of Ramadan, Iran and Iraq engaged in the largest land battle since WWII. Iranian Army Captain Reza Sanjabi, survivor of five bloody battles, knows this one will be different. Thousands of human shields, rumors of chemical weapons, and the false hope of a populist uprising all point to a mutual bloodbath.
His men call him the Battle Djinni, named for the medallion of a Persian deity he wears into combat. A family heirloom or magical protection? All Reza knows is it gives him the kind of courage that wins battles. Now, wounded and trapped behind enemy lines, it looks like his luck has finally run out. Or has it?
Published:
September 22, 2016
Genres: