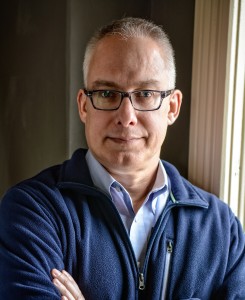 I always knew I'd be a writer—someday.
I grew up on a small farm in the mountains of northeastern Pennsylvania. We didn't have a TV, so my reading habit gradually turned into a reading obsession. After high school, I was accepted to the United States Naval Academy where I earned a Bachelors of Science in Honors English (That's not a typo. I'm probably the only English major you'll ever meet who had to take multiple semesters of calculus, physics, chemistry, electrical engineering, naval architecture and weapons systems design just so I could get to read some Shakespeare. It was totally worth it.)
I spent six years as a commissioned officer in the nuclear-powered submarine force chasing Russian submarines. Then the Cold War ended and I became a civilian. For the next two decades, I schlepped my way around the globe as an itinerant executive in the high-tech sector, and even did a stint with a Silicon Valley startup.
In 2013, I took a break from corporate life and wrote a book. I enjoyed it so much that I wrote another (better) book, the first in a series. For the writer in me, my "someday" is today.
My wife and I are self-confessed travel junkies. We're proud of the fact that both our children had to get extra pages in their passports in order to fit all their visa stamps. Together, we've visited over two dozen different countries and almost all fifty states, but Minnesota is home.
If you'd like to chat, you can drop me an email at david@davidbruns.com.